Businesses...looking to cater a lunch?
Check out our catalog of trucks offering
​a $10 per person lunch program!
Welcome To Eat From A Truck,
Charlotte, North Carolina's
Booking Agency For Food Truck Events
Looking for a food truck rally or event near you? Here's what we've got scheduled.
​
Want to book an event at your venue? Get in touch; we can book the trucks for you!
Call for information: 704-545-7823
Email and Social Media Links Located Above
​


---
Thank you to The Barking Duck Brewery for hosting our Mint Hill events!
The owners of The Barking Duck are transitioning their business into distribution, and have closed their taproom.

​We had a great time meeting all our Mint Hill friends at the rallies we held there.

​Hopefully we'll be able to set up something else in the vicinity soon.

​Watch this space for information!
---
Did you have the chance to visit your favorite food truck in uptown?
We just wrapped up a week of food trucks on Levine Ave and in Romare Beardon Park in conjunction with our friends from Blumenthal Arts. We had a great time providing lunch and dinner to their Jazz Festival patrons!

​I hope you got an opportunity to enjoy a very special lunch or dinner. We're already looking forward to doing it again next year!

Monday, April 9 through Sunday, April 15, 2018
Click on the picture for more information.

---
---
Back for our third year!
Harrisburg Saturday night food truck rallies!


We're partnering again with The Town of Harrisburg for a

​family friendly series on the second Saturday of the month.

Join us in the Park for bands, kids' activities, and of course...

FOOD TRUCKS!

​

For the official Harrisburg Rockin the Burg

Information Page, click

here

.

Hope to see you there!

Our location this year has changed! This year, we'll be at Harrisburg Park,
​191 Sims Parkway, Harrisburg, NC 28075

Currently Scheduled:
(food truck line-up subject to change)
---
What should I expect at a food truck rally?

*To choose from a variety of food options from trucks offering different cuisines
*To wait in line to place an order ~ a great time to chat with your neighbors!
*To wait in line to receive your order ~ this food it cooked to order, it's not fast food!
*To be able to use cash or credit at all the trucks
*To bring your own chair or blanket for seating
*To bring the kids...and don't forget their footballs, frisbees, etc!
*To bring your own beer or wine (alcohol rules vary by location; please check the rally's description to be sure it's allowed)
*To bring your leashed dog (Varies by location, check the rally's description to be sure dogs are allowed. And please be prepared to clean up after your dog if needed.)
*To have a really difficult time deciding what to eat ~ you'll want to try it all!
*To have a hard time tracking down that wonderful scent when each truck smells better than the last!
​*To leave the rally with your tummy full, having met your neighbors and had a wonderful evening laughing with friends old and new, and looking forward to next time, when you can do it all over again!
---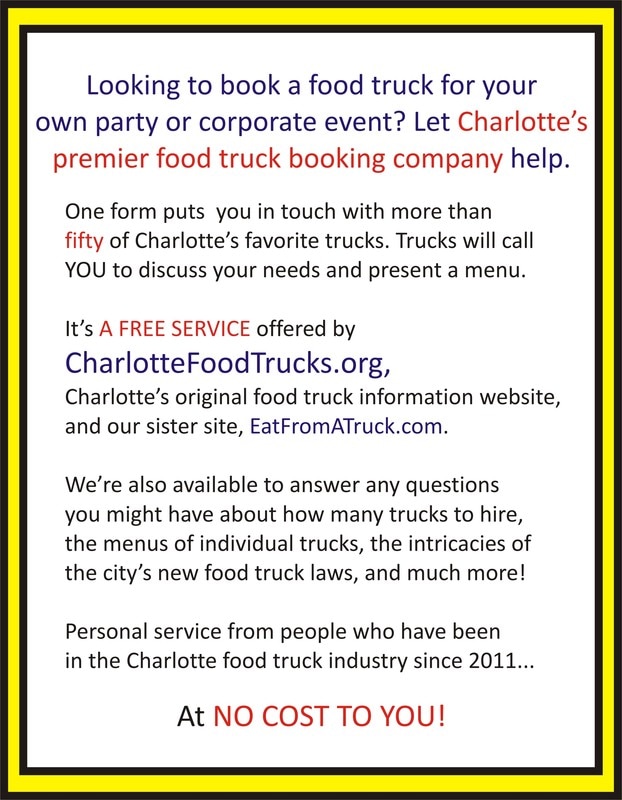 ---
Did you get a chance to experience
the Carolinas' Largest Food Truck Festival?


On September 10, 2016, we brought in trucks from all over North Carolina, along with some from South Carolina and even as far away as Atlanta for a huge festival at Charlotte's AvidXChange Music Factory featuring three bands, craft beer, a kids' area...and some of the most creative and delicious food trucks around.